Internships & Co-op Opportunities
AMD's University Relations team is committed to helping students and graduates expand and apply their theoretical knowledge while building on-the-job skills. Interns with the University Relations program are encouraged to display their talents, build professional networks, participate in real-life engineering challenges and apply back to fulltime opportunities upon graduation. Be part of the team that enables today and inspires tomorrow!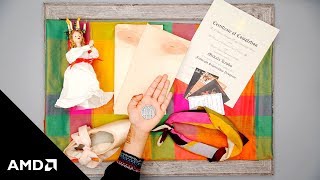 Meet AMDer (and former intern) Mekala Keshu
And learn about Saint Lucia, Taekwondo board breaking, being a Fulbright Scholar and everything in between!
Watch Employee Video
Search results for "". Page 1 of 3, Results 1 to 25 of 75
Job Title
Location
Co-Op/ Intern - Power & Performance System Engineer

Taipei, Taiwan, TW

Nov 23, 2023

0.00 mi

Student/ Intern/ Temp

Intern/Coop/Student

Taiw

Taipei-Co-Op-Intern-Power-&-Performance-System-Engineer-Taiw

Co-Op/ Intern

Taipei, Taiwan, TW

Dec 2, 2023

0.00 mi

Student/ Intern/ Temp

Intern/Coop/Student

Taiw

Taipei-Co-Op-Intern-Taiw

Summer 2023 Applied Machine Learning System Architecture Engineering Co-Op/ Intern

Santa Clara, California, US

Nov 14, 2023

0.00 mi

Student/ Intern/ Temp

Intern/Coop/Student

Cali

Santa-Clara-Summer-2023-Applied-Machine-Learning-System-Architecture-Engineering-Co-Op-Intern-Cali

Spring 2023 Architecture Modeling Co-Op/ Intern

Santa Clara, California, US

Nov 10, 2023

0.00 mi

Student/ Intern/ Temp

Intern/Coop/Student

Cali

Santa-Clara-Spring-2023-Architecture-Modeling-Co-Op-Intern-Cali

Spring 2023 DFx Architecture Intern/Co-Op

San Jose, California, US

Nov 19, 2023

0.00 mi

Student/ Intern/ Temp

Intern/Coop/Student

Cali

San-Jose-Spring-2023-DFx-Architecture-InternCo-Op-Cali

Spring 2023 System Design Engineering Co-Op/ Intern

San Jose, California, US

Nov 27, 2023

0.00 mi

Student/ Intern/ Temp

Intern/Coop/Student

Cali

San-Jose-Spring-2023-System-Design-Engineering-Co-Op-Intern-Cali

Spring 2023 System Design Validation Co-Op/ Intern

San Jose, California, US

Dec 4, 2023

0.00 mi

Student/ Intern/ Temp

Intern/Coop/Student

Cali

San-Jose-Spring-2023-System-Design-Validation-Co-Op-Intern-Cali

Spring '23 Machine Learning/HPC Architect Co-Op/ Intern

Roseville, California, US

Dec 1, 2023

0.00 mi

Student/ Intern/ Temp

Intern/Coop/Student

Cali

Roseville-Spring-'23-Machine-LearningHPC-Architect-Co-Op-Intern-Cali

Spring 2023 Server Automation Test Engineer Co-Op/ Intern

Roseville, California, US

Dec 5, 2023

0.00 mi

Student/ Intern/ Temp

Intern/Coop/Student

Cali

Roseville-Spring-2023-Server-Automation-Test-Engineer-Co-Op-Intern-Cali

Co-Op/ Intern

Penang, Penang, MY

Nov 10, 2023

0.00 mi

Student/ Intern/ Temp

Intern/Coop/Student

Pena

Penang-Co-Op-Intern-Pena

Co-Op/ Intern

Penang, Penang, MY

Nov 23, 2023

0.00 mi

Student/ Intern/ Temp

Intern/Coop/Student

Pena

Penang-Co-Op-Intern-Pena

Spring & Summer 2023 Physical Design Co-Op/ Intern

Orlando, Florida, US

Nov 21, 2023

0.00 mi

Student/ Intern/ Temp

Intern/Coop/Student

Flor

Orlando-Spring-&-Summer-2023-Physical-Design-Co-Op-Intern-Flor

Spring 2023 Software Engineer Co-Op/ Intern

Orlando, Florida, US

Nov 22, 2023

0.00 mi

Student/ Intern/ Temp

Intern/Coop/Student

Flor

Orlando-Spring-2023-Software-Engineer-Co-Op-Intern-Flor

Spring 2023 GPU Workload Analysis Co-Op / Intern

Orlando, Florida, US

Nov 30, 2023

0.00 mi

Student/ Intern/ Temp

Regular Salaried

Flor

Orlando-Spring-2023-GPU-Workload-Analysis-Co-Op-Intern-Flor

Spring 2023 Hardware Engineer Co-Op/ Intern

Morrisville, North Carolina, US

Nov 21, 2023

0.00 mi

Student/ Intern/ Temp

Intern/Coop/Student

Nort

Morrisville-Spring-2023-Hardware-Engineer-Co-Op-Intern-Nort

Spring 2023 Hardware Engineer Co-Op/ Intern

Morrisville, North Carolina, US

Nov 21, 2023

0.00 mi

Student/ Intern/ Temp

Intern/Coop/Student

Nort

Morrisville-Spring-2023-Hardware-Engineer-Co-Op-Intern-Nort

Spring 2023 Design Verification Co-op/Intern

Boxborough, Massachusetts, US

Nov 17, 2023

0.00 mi

Student/ Intern/ Temp

Intern/Coop/Student

Mass

Boxborough-Spring-2023-Design-Verification-Co-opIntern-Mass

Co-Op/ Intern(182079)

Bangalore, Karnataka, IN

Nov 22, 2023

0.00 mi

Student/ Intern/ Temp

Intern/Coop/Student

Karn

Bangalore-Co-Op-Intern%28182079%29-Karn

Spring 2023 Test Development Engineer Intern/ Co-Op

Austin, Texas, US

Nov 13, 2023

0.00 mi

Student/ Intern/ Temp

Intern/Coop/Student

Texa

Austin-Spring-2023-Test-Development-Engineer-Intern-Co-Op-Texa

Spring/Summer 2023 Server Farm Validation Co-Op/Intern

Austin, Texas, US

Nov 14, 2023

0.00 mi

Student/ Intern/ Temp

Intern/Coop/Student

Texa

Austin-SpringSummer-2023-Server-Farm-Validation-Co-OpIntern-Texa

Spring/Summer 2023 Server Platform Validation Co-Op/Intern

Austin, Texas, US

Nov 14, 2023

0.00 mi

Student/ Intern/ Temp

Intern/Coop/Student

Texa

Austin-SpringSummer-2023-Server-Platform-Validation-Co-OpIntern-Texa

Summer 2023 Yield Co-Op/Intern

Austin, Texas, US

Nov 14, 2023

0.00 mi

Student/ Intern/ Temp

Intern/Coop/Student

Texa

Austin-Summer-2023-Yield-Co-OpIntern-Texa

Spring 2023 Systems Design Co-Op/ Intern

Austin, Texas, US

Nov 16, 2023

0.00 mi

Student/ Intern/ Temp

Intern/Coop/Student

Texa

Austin-Spring-2023-Systems-Design-Co-Op-Intern-Texa

Summer 2023 Data Center GPU Validation Co-Op/ Intern

Austin, Texas, US

Nov 16, 2023

0.00 mi

Student/ Intern/ Temp

Intern/Coop/Student

Texa

Austin-Summer-2023-Data-Center-GPU-Validation-Co-Op-Intern-Texa

Spring 2023 Software Development Engineer Co-Op/ Intern

Austin, Texas, US

Nov 19, 2023

0.00 mi

Student/ Intern/ Temp

Intern/Coop/Student

Texa

Austin-Spring-2023-Software-Development-Engineer-Co-Op-Intern-Texa